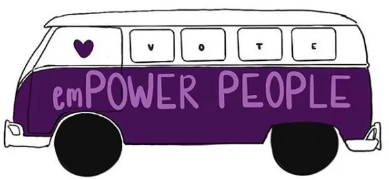 emPower People is a purple-colored craftivism project aimed at uniting crafters to spark conversations, engagement, and action.
To show your support, we encourage you to knit, crochet, or sew a purple emPower People Bandana.
The goal is to wear it proudly everywhere—when you vote, go to the grocery store, march for a cause, or even when you're knitting, crocheting or sewing alone in your socially isolated bedroom.
We would love to see a sea of purple to represent unity so please share the emPower People project with your friends, family, knitting groups, or anyone who can knit, crochet or sew a simple pattern. 

We want to thank the founders Diane (@LadyDyeYarns), Casapinka (@Casapinka), Laverne (@BzyPeach), Ashley (@AJacksonIllustrations) for creating this great initiative.
These are the PDF pattern downloads for the Bandana knit pattern and Bandana crochet pattern for the bandana, you can also find these two patterns and the sew pattern emPower People's  website.
---