Josh Bennett x Madelinetosh Adventurer Collection
This blanket utilizes an interesting stitch technique that looks like licks of a flame on a candle. Every stitch is twisted throughout the blanket to match the bottoms of the hems of the other pieces in the collection. Because of all the ribbing, the Rooftop blanket is incredibly stretchy and grows to comfortably fit two people, but it also packs down small for travel.

Josh loves for knitters to learn something new with his designs. So, he's incorporated two different types of double increases and double decreases to give the opportunity to learn four new ways to increase and decrease. He noted that the pattern is easy to follow and goes by quickly once you learn it.


Getting excited for the collection to come soon? We can't wait. The fourth and final garment of the collection is the Atlas Pullover. A fave feature of this sweater is the vertical twisted rib. Josh considers this to be incredibly flattering to the body so he incorporated a vertical design element in every garment. The only piece that doesn't have it is the Ridge Hoodie, which is horizontal. The vertical twisted rib runs up the body and into the saddle sleeves and then the saddle sleeves have ribs that come down.

The collar to the saddle sleeve has the same enclosed pick up technique used for the hoodie, but instead for the crew neck of the pullover. It uses the same sewn bind off with a rounded continuous finish.


We can't wait for the Josh Bennett x MT Adventurer Collection to drop on Oct. 19th! In the meantime, we're excited to share some more details and photos of the third garment in the collection, Vesper V.

Made with Tosh DK, in the colors Joshua Tree and Thunderstorm, and TML, in the colors Farmhouse White and Dr. Zhivago's Sky, Josh held these colors together to create a beautiful marled texture look and give it more depth. Josh incorporated a few neat design elements to show off your pride for your school, favorite sports team, or maybe a trendy color that's happening now.

In particular the collar and cuffs include a varsity stripe, which is the perfect place to add any pop of color you so choose.
We're thrilled to show off the second garment in the collection, The Kindling Cardigan. Made in Farm Twist in the color Whiskey Barrel, Josh found when he held the yarn double it created a luxurious texture with extra depth that made the color look even deeper.

Josh likes to incorporate new and innovative techniques into each collection he makes, which is exactly what he's done for the construction of the collar in the Kindling Cardigan.

This unique collar is knit and attached to the body at once, resulting in a vertical rib and lying flat. By doing this, you don't need to work the collar separately or pick up the stitches and work the band!
We're so happy to share some shots and details of the first garment in the collection, The Ridge Hoodie. Made in our newest base, TML Triple Twist, and our classic base Tosh Merino Light in the colors Oscuro and Thunderstorm.

Since hoodies are one of Josh's favorite things to wear, it was pretty fitting for him to include his own take on this classic staple! The hoodie can be made with any of our 150 core colors or get some inspo from the other colors in Josh's hand selected paletteーwe can't wait to see what color combos you come up with!
---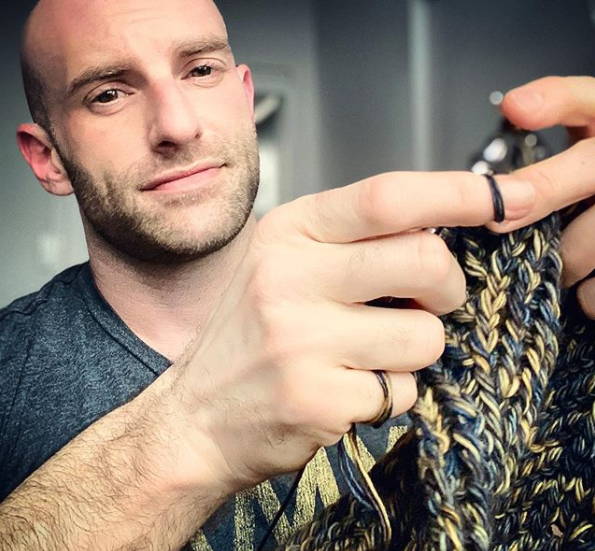 Your Questions, His Answers
We asked you on our Instagram to ask us and Josh more questions about the upcoming Josh Bennett x Madelinetosh Adventurer Collection, his color palette, and designs, which are a two cozy pullovers, a hoodie, a marled v-neck raglan, and a blanket.

Do you crochet?
I am a knitter who crochets.

When and how did you learn to knit?
My grandmother taught me when I was 8 years old.

Which project is best for a beginner?
I started by making a lot of scarves, but what was most beneficial to me in the beginning, and even now, is knitting swatches. I grab a stitch dictionary, turn on the Price is Right, and start each stitch pattern to learn why and how it works. This is an easy way to build your skills and learn about different fibers and gauges.


What is your favorite piece from the collection?
Each piece is designed to be one of my favorites so it depends on which one I am wearing at the time. Even when I was knitting the garments, I loved each one for different reasons.
Where did the inspiration come from?
Friends, fiber and fun. I wanted to create a collection of modern essentials that we can all make and wear together. My friends and I love to take and share photos of us in new or fun places showing off our knitwear. It's brought us closer together creatively and competitively, even now when we can't be physically close.

What is your creative process?
My process usually starts with a mood, and the mood with this collection is togetherness and adventure. My mood board had a lot of photos of camping and traveling with friends.

Does the color inspire the design or vice versa?
It's both, but first, I will pick a color palette to work with. As each design progresses, the color might change from my original plan, because what you see in your head doesn't always translate to the real world. As long as the color fits with the design and tells a cohesive story, I am happy.
---
Josh Bennett's Curated Palette
We're also ecstatic to finally share the colors he picked for the collection that helped inspire it, which you can now shop in all our bases! The color palette is inspired by the open sky, reminiscent of the ranges of blue from dawn to dusk, moody grays from the night sky, and pops of crimson and subtle tones of gold from the rising and setting sun.