Since 2006, Madelinetosh has been delighting makers with our dazzling hand-dyed yarns. Using super-secret dye techniques – and lots of spoons – Madelinetosh artisans dye yarn in small batches to create the deep, layered colors that have made our yarns famous.

What makes our hand-dyed yarn different?
We source our yarns primarily from sustainable mills in Peru and South Africa. Our tightly twisted plies and the alchemy of our dye techniques combine to create rich, translucent colors like glazing on ceramics. Not to boast, but Madelinetosh hand-dyed yarn looks lit from within.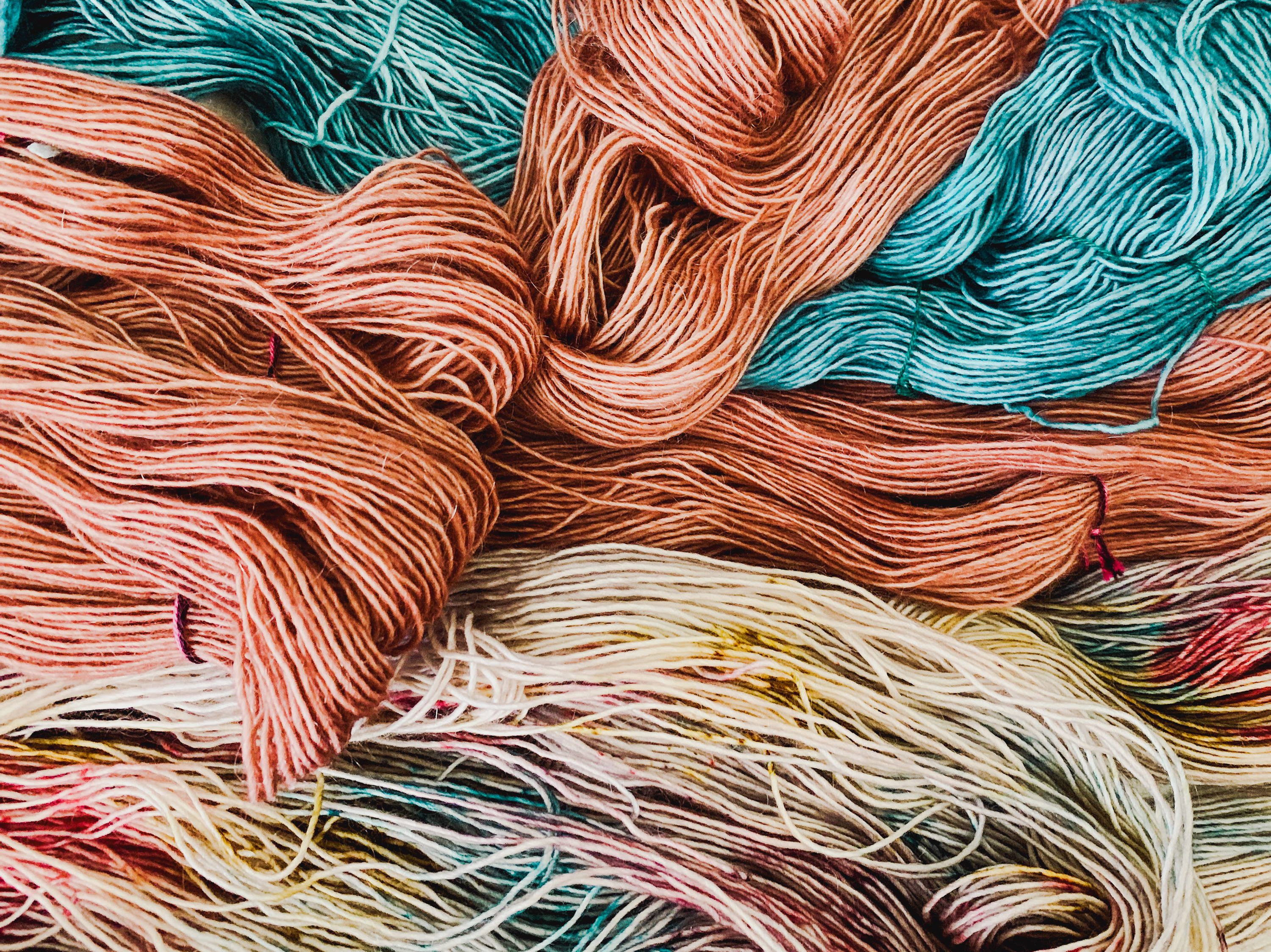 ---
Madelinetosh's talented team of dyers produce thousands of hand-dyed skeins each week for customers worldwide. Many have been with the company for years. Their attention to detail, color sense, and intuition make Tosh yarns Tosh. They are the artists behind your fiber art.
---
Most Madelinetosh yarn is dyed-to-order or DTO. So when you place an order for hand-dyed yarn with Madelinetosh, we dye it just for you. Once we receive our order, your yarn begins a journey of 19 touches before it gets to you. Dyeing is only one touch. Your hand-dyed yarn is also wound, sorted, dried, twisted, labeled, checked and rechecked for quality, packed, and shipped – and some other things, too. All this touching means it takes 10-14 business days to get from us to you.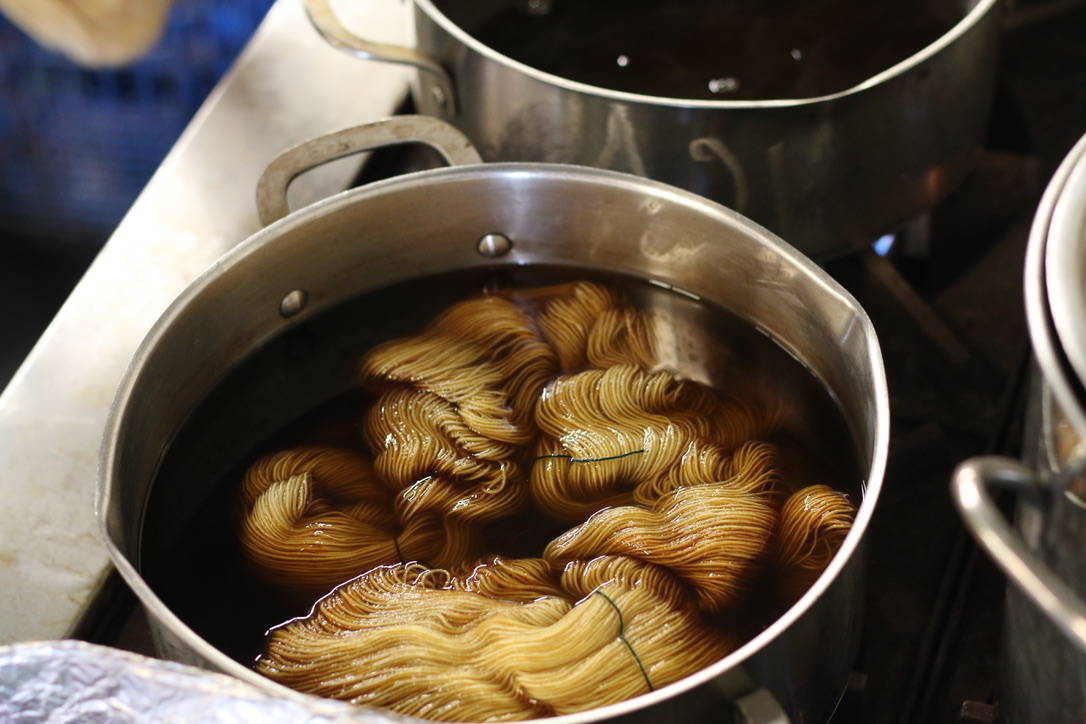 ---
What's a yarn base? These are the different weights and styles of yarn we dye from scratch. With nearly 20 bases, you can choose from fingering- weight yarn spiked with glitter fiber, our workhorse worsted, or our fanciest kissed-by-cashmere Pashmina.
Tosh tip no. 1: Each yarn base takes dye differently. Say, you've fallen in love with Mars In Retrograde (and, who hasn't?), type that name into our website search and compare bases in that color. This will give you an idea of how it will look on your base of choice.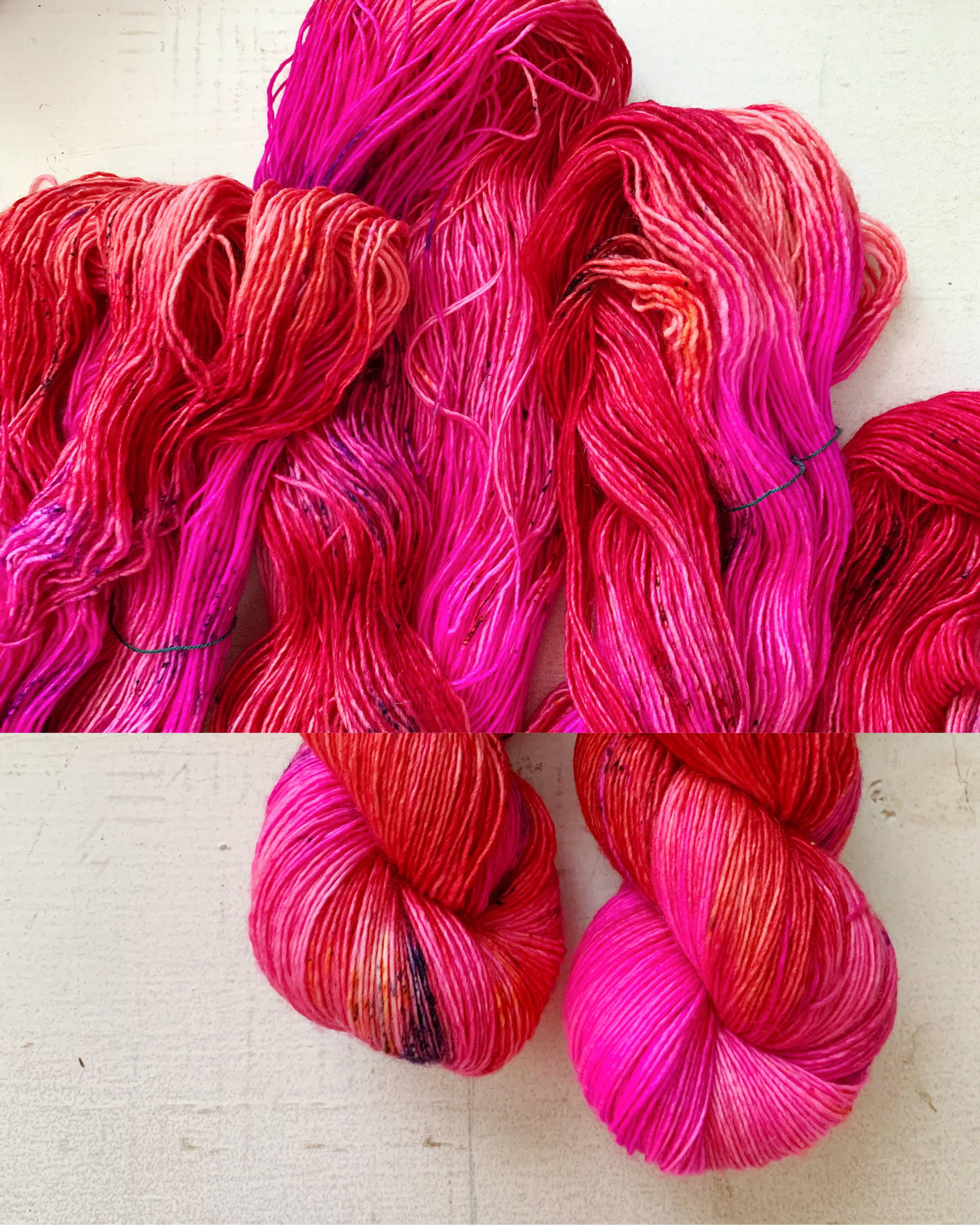 Tosh tip no. 2: Be sure to order plenty of yarn for your project and alternate skeins every two rows when knitting – this evens out color differences. That said, when assembling your order, we do our best to color-match each skein in your order for the best possible making outcome.
---
When we talk about types of hand-dyed yarn we try to keep it simple, even though each skein is a special work of art.
When pressed, we talk about our yarns as tonal/semi-solid and variegated, reserving the option to sprinkle speckles on everything.
TONAL & SEMI-SOLID COLORS
Tonal and semi-solid hand-dyed yarns are the closest we come to solids. Undulating between slight variations in saturation, hue, and value, these colors create richly pigmented fabrics that vibrate with life. Choose tonals when you want a solid color with benefits. Some examples of great Madelinetosh tonals are: Coquette-Deux, Hosta Blue, and Filtered Daydreams.
Dyed in subtly or widely divergent hues, variegateds contain multitudes, up to 13 colors sometimes. These skeins are beautiful objects in their own right. Pick them for epic socks, Tosh-style colorwork, hats, and a good mood. Some great Madelinetosh variegateds are: Texas Tulips, New Moon, and Auburn Afternoon
Like sprinkles on ice cream, speckles work on both tonal and variegated
colors, adding color, interest, and drama. These are often the hand-dyed
yarns that cause you to gasp, think twice, and then add to cart because
they're so dang cool. Go big, make a sweater.
Some of our most beloved speckles are:
Video Baby
,
R.E.D. Rescue
Endangered by Design
, and
Gracenotes
.